Our Santa Letters have been a holiday tradition for generations.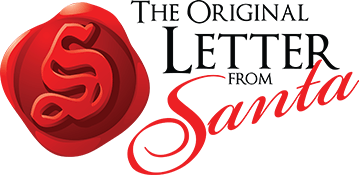 For over sixty years we've put smiles on the faces of millions of children all over the world with the Original Letter from Santa
These
personalized letters
are filled with more than good wishes from Saint Nick; they're filled with the promise of Christmas, and all its secrets and magic. And, a Santa letter can set many a worried mind at ease, as each reader learns that he or she is, indeed, on Santa's "good" list! It may sound insignificant to adult ears, but think back: To a child, knowing he or she has the approval of "the Big Guy" can do amazing things for self-esteem and confidence!
And with each
Santa letter
, your child receives so much more. Personalized especially for the recipient, you can even include customized text to tailor the letter to your child's life. Imagine the thrill your child will feel, realizing that Santa has taken a special interest in him or her.
Every
letter from Santa
is printed on custom stationery, unique to Santa Claus House - in fact, Santa has been using the same stationery with only minor changes, since 1960, continuing a tradition that adds to the letter's believability and magic. Each letter is mailed from Santa Claus House in North Pole, Alaska, and more importantly, each letter is backed by a real address, where children can visit Santa, and even write back to the Jolly Old Elf.
Each letter also includes a jumbo sticker, proclaiming the bearer to be "on Santa's Good List;" an exclusive, keepsake "Santa Dollar;" and a full-color keepsake photo of Santa. And of course, every Santa letter is stamped with our trademark "Santa's Official Mail" seal.
Santa letters are mailed during the first part of December, to ensure delivery before Christmas Day no matter where you or your special child are located.
Order Santa Letters Now >
Give your child an added thrill with their own specially-crafted genuine deed to one square inch of North Pole - an authentic deed personalized with your child's name and a real lot and block number.
Maybe you received a Santa letter when you were a child- their parents and grandparents from decades ago. If you did, you remember the butterflies-in-your-stomach feeling you got when you saw that envelope from Santa. Let your special child experience that same thrill today. And if you weren't lucky enough to receive the Original Letter from Santa as a child, start a tradition that is sure to be appreciated, fondly remembered, and passed down to future generations.

It's never too late to start a family tradition, and the Original Letter from Santa is offered in more than two dozen styles to suit multiple occasions and circumstances, including letters specifically designed for baby's first Christmas, toddlers, adults, and non-believers, as well as for children facing tumultuous times in their lives. With all of his reindeer to care for, Santa is certainly an animal lover, and he hasn't forgotten the family pet: special versions of the Original Letter from Santa are even available for that special pampered family dog or cat.

More than one child at the same address? The Original Letter from Santa is offered in a variety of different formats, so each child will feel as special as you want them to feel.

The Original Letter from Santa is truly an heirloom that will be packed away from year to year, handed down to that special child when they have a home of their own. Shared with their own children, your gift of an Original Letter from Santa will be the foundation of a favorite tradition that will help many generations to experience firsthand the unique, pure, unadulterated joy of the true Christmas Spirit.

Order Santa Letters now >