The Original Letter from Santa has been a holiday tradition for generations.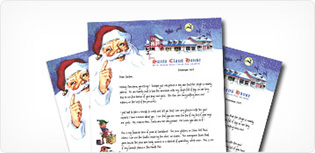 Christmas Eve. The sharp, pungent scent of pine. The reflection of twinkling, colored lights in every window and mirror. The scent of gingerbread. Stockings carefully hung. Milk and cookies left for Santa. The joyful anticipation of unknown treasures when morning finally arrived. The temptation to stay up into the wee hours of the night, to catch a glimpse of Santa's cherry red coat or team of magical reindeer.

No one experiences the sheer, unadulterated joy of the Christmas spirit like a child. Unencumbered by adult concerns, children can feel the miracle of the holiday, absorbing traditions and memories that will last a lifetime.

Add to those special memories with a true heirloom that will thrill today and offer warm, happy memories for years to come. The Original Letter from Santa has been a Christmas tradition since 1952, and millions of letters have been mailed to children across the globe, to nearly every country in the world. Filled with warmth and good cheer, the Original Letter from Santa is one product that has not lost its value over time.